Rope is tricky. It's very intricate work and it requires both a plan, and a willingness to improvise when that plan turns out to be impossible. I'm usually exhausted after one of these, much moreso than after normal shoots.
It's been a long time since I did any ropework, but when I had a chance to work with Kimi again I couldn't pass it up.
Here's a shot from our last rope session, (holy crap) back in 2016: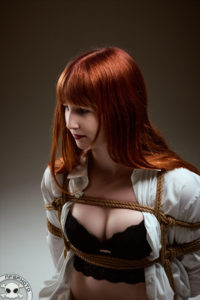 She asked what I wanted her to wear, and I had a vision of white so I asked for something white. She thought about it briefly and said "My wedding dress is white" and …. well damn that's a good idea. So she brought three options, a sundress, an office-style shirt, and her wedding dress. We had concerns about the last one, thinking the rope might damage the lace or rhinestones, but it was no problem.
And so things were very white indeed.