I've been through many different remote lighting systems. I started with Nikon's optical flash remote, which was useless outdoors, then MicroSync with its unreliable range and no control over the flash levels, then RadioPopper, which was great but had quality issues and all the hotshoes stopped working after a while. And then Hong Kong brand Cactus, which was my reliable lighting partner for many years. At first I used their V6 transceivers, which could either control or receive five different channels. I had five of these and five Nikon SB-28 speedlights. The system worked brilliantly. But the SB-28 was already 15 years old when I started using them (they were cheap though!) and they quickly became unreliable too.
So I kept the Cactus V6 transceivers, and bought a bunch of their RF-60 flash units. These were brilliant, with a built-in radio (for full remote operation, as either trigger or receiver) and a built in tripod mount, as well as the hotshoe. They could do anything and go anywhere, I used them all the time and loved them.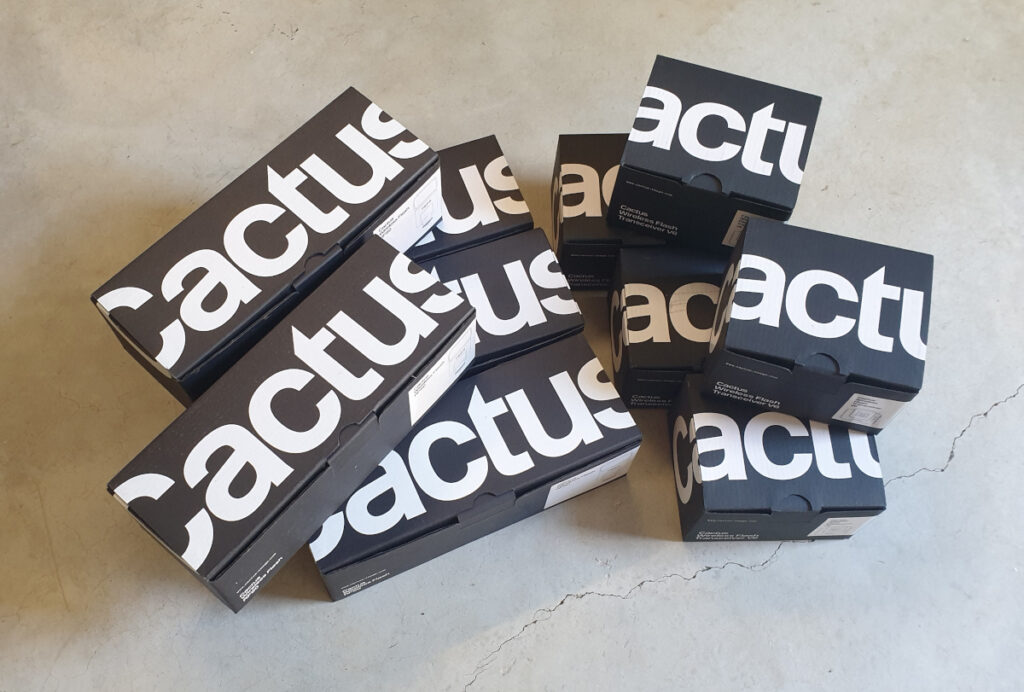 But Cactus used bad capacitors and after a three years they all died within six months of each other. I sent them back to Cactus and they fixed them all, and I got a few more years out of them before the fixed units too started flaking out. And while this was happening, I started using Godox lights. I briefly considered Alien Bees, but ye gods that price.
I started with a pair of AD-200 units, then a couple of AD-400 lights. I've used three different Godox triggers, the XT32 (which had an unreliable wheel and cumbersome operation), X2T (which was flakier some days than others) and then the XPro. The Godox trigger would sit on top of the Cactus V6, which was mounted on the camera's hot-shoe.
But when my last Cactus light finally died, and I bought two more Godox lights, I needed more channels. I was regularly using six lights in a scene, and while the XPro transmitter and AD-400 lights had 16 channels, the AD-200 and V850III lights were limited to five. And since I mostly used the AD400 lights, they had to be the lower channels so they were easier to manage.
The upshot, finally, was that I needed a way to use two triggers at once, and they did not stack nicely. If you mount the XPro on the X2T, it wouldn't work. I considered a cold-shoe second mount, and connecting the two triggers with a cable, but in the end I went with a hot-shoe splitter, and two triggers mounted on the camera.

It was cheap enough on Amazon. The same unit is available from many sellers under many names (ask me some time what I think about this bullshit) and it's a simple thing. Inside it is a PCB that copies the camera hotshoe to two places. That's it.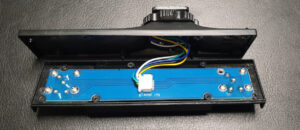 But you can't use two smart triggers at once, and if you mount two Godox triggers, they stop working immediately, as they both try to communicate with the camera.
So I opened it up and make one smart hotshoe, with full TTL control, and also preserves the focus signalling if you need it. The other had its data lines cut, so it's a dumb hotshoe with a simple central trigger signal.
It works great. Two triggers, ten easy access channels (and 11 more if I want them, via the XPro's 16 channels). Here's where to cut: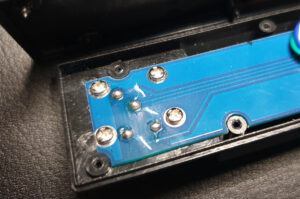 And the result is this unwieldy offense to all right minded people: